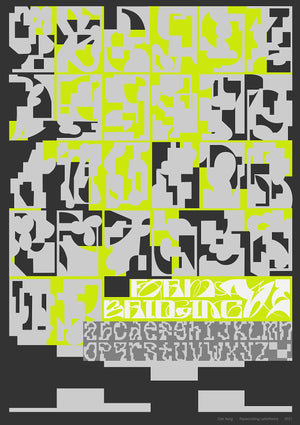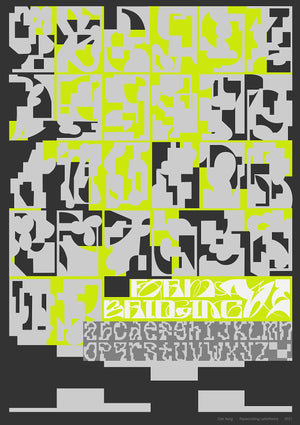 Can Yang
Can Yang printed on Giclée Hahnemühle German Etching.
 Can Yang (b.1994) is a multidisciplinary artist and designer working with a variety of media to create context-aware graphics. She is currently studying Experimental Communication at Royal College of Art. Her previous education includes BA Graphic Design from Rhode Island School of Design (2018). 

The poster is typographic experiment using hand-cut forms to compose letters while using the scraps/throwaways/negative forms to compose another version of the lettering. (i.e. A and A') The positive forms being cut out (A)  are the components to form text and meaning but interestingly the negative forms left (A') are iconoclastic and pictorial which are detached from the meaning. The newly-formed unreadable alphabets (A's) stand on their own in the foreground and while decoding the content and form a language that separates itself from the authorised content through deconstruction.
Behance: https://www.behance.net/canyang94
Instagram: @solxus